Last Updated on July 12, 2021 by Fisher Funeral Chapel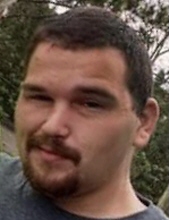 In the early morning hours of July 3, 2021, Randy and Jodie Robinson received the phone call that no parent ever wants to get. Their youngest son, 31-year-old Ryan Joseph Robinson, was shot and killed in Titusville, Florida by suspects who are still at-large.
Ryan was born on January 6, 1990, in Logansport, to Randall J. and Jodie Rae (Hinkle) Robinson, who survive.
Ryan attended Logansport High School and had resided in Titusville the past five years.
Previously employed at Tyson, Ryan was a self-employed backyard mechanic. He had a knack for fixing up cars and engines of all sizes. He enjoyed racing and 4-wheeling. Ryan was always up for a good pick-up game of basketball. He loved being outdoors. His canine, Faith, was his constant companion. The 4th of July was his favorite holiday and Ryan had all the fireworks in place to put on a grand show for his family and friends.
Surviving with his parents are his fiancee, Christina Bond; his step-daughter, Breona (Kendrick) Brown; step-grandchildren, Jaden, JayMarion, and Kaenin Brown; siblings, Michael Robinson (Amanda Slone), Shane Robinson, Chris Wheetley, Melissa Robinson, Eric Wheetley, and Crystal Roe; aunts and uncles, Carla and Steve Phillips, Ronnie and Bobbie Hinkle, and Rick Robinson; several nieces and nephews and close friends, Chris Cornell and Joshua Aylesworth.
A Funeral Service celebrating Ryan's life will be held at 11 a.m. Saturday, July 17 in Fisher Funeral Chapel with Dawn Fisher officiating.
Burial will follow in Davis Cemetery, near Burnettsville.
Friends will be received on Saturday at 10 a.m. one hour prior to the service.
Memorial contributions may be made to the Cass County Humane Society.
You may share memories and offer words of sympathy on Ryan's Tribute Wall at www.fisherfuneralchapel.com