Last Updated on August 6, 2021 by Fisher Funeral Chapel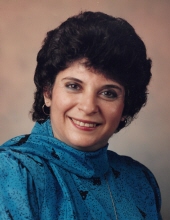 Suzanne G "Suzy", Iskander, 73, Logansport, passed away Tuesday, August 3, 2021, at the Fort Wayne Lutheran Hospital.
Born in 1947, on Christmas Day, Suzy was the daughter of the late Gabriel and Mary (Shoukry Shouery) Daoud.
In 1970 Suzy was excited to start a new life and family in the United States and relocated from her birthplace of Egypt. She was proud to earn her U.S. citizenship in 1976.
After earning multiple advanced degrees from Indiana and Huntington Universities, Suzy worked as a volunteer counselor. Her specialty was in family counseling. She also spent many years working with the local bank and at the Logansport Public Library.
Suzy enjoyed singing in the church choir and volunteering her skills as a counselor to help those in need. From her beautiful garden, she canned fresh foods and used them in her cooking. She loved preparing large middle eastern meals and baking Christmas cookies. She was also talented in cross-stitching and needlepoint and loved to create gifts for her friends and loved ones. She has two loyal pets. William and Daisy, that she loved very much and who will miss her greatly.
Suzy is survived by her four children, Peter (Wendy) Iskander, Carmel, IN, Tony (Stephanie) Iskander, Apex, NC, Christopher "Chris" Iskander, Westminster, CO, and Steve (Amber) Iskander, Fishers, IN; one brother, Magdy Daoud, Egypt; one sister, Colette Daoud, Canada; and four grandchildren, Tony,, Justin, Mackenzie, and Addison.
She was preceded in death by twin sons, Mark and John, and her parents Mary and Gabriel Daoud.
A Memorial Service will be held at 4 p.m Thursday, August 12 in Fisher Funeral Chapel in Logansport Indiana. Friends will be received from 2 p.m. Thursday until the time of the service in the funeral chapel. Interment, at a later date, will be in the St. Benedict Mount Calvary Cemetery in Cambridge, Ohio.
You may share memories and offer condolences on Suzanne's Tribute Wall at www.fisherfuneralchapel.com