Last Updated on September 28, 2021 by Fisher Funeral Chapel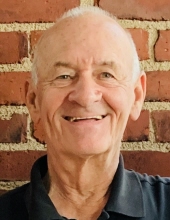 A family man, a teacher, a coach – Larry Thomas "Butch" Jones, 81, Logansport, lived a full and productive life. He will be forever imprinted on our hearts in all our respective tomorrows.
At 1:51 a.m., Sunday, September 26, 2021, Butch peacefully transcended from this life to the next in the comfort of his home with his family close by after a courageous battle with cancer.
Born January 31, 1940, in Logansport, he was the son of the late William R. "Bill" and Mary (Baker) Jones.
Education was of key importance to Butch. A 1958 graduate of Logansport High School, he called himself "a decent player" on the LHS Basketball and Baseball teams. Butch earned both his Bachelor's and Master's degrees from Ball State University, where he had played college baseball.
During his senior year at a dance at Ball State, Butch met the love of his life, a beautiful freshman named Judy Merry. The couple were married August 24, 1963, at the Baptist Temple in Logansport. In 1969, they built their present home together and have enjoyed their quiet and friendly neighborhood, tucked in the midst of nature's beauty.
In 1964, fresh out of college at age 23, Butch was hired to teach and coach at Logansport High School – his beloved alma mater. "Once a Berry, Always a Berry," Butch was as much a mascot of all that is good at Logansport High School as Felix the Cat himself. For years, he taught business and accounting at Logansport High School. After his retirement in 2002, Butch continued to be a substitute teacher for the next 17 years. Students knew it was going to be a good day when they were greeted by his friendly, "Good Morning." Butch was a solid example of excellence with total commitment. He expected nothing less from anyone crossing his path.
As a teacher, Butch made students feel valued and optimistic. He saw potential in every face. Teaching more than just what was needed to pass a test – Butch taught life skills that would stick with his students and touch the future. Butch's positive attitude and his wonderful smile were contagious and endearing.
As a coach, his players were motivated by Butch's passion for the sport. Assistant Coach Jones was part of the Logansport High School baseball program, which was successful in part due to the tremendous coaching team that included Head Coach Jim Turner and Junior Varsity Coach Rich Wild. During his tenure, the Logansport Berries won four state championships – in 1975, 1977, 1979 and 1991. Butch became the head coach following Turner's retirement in 1991 and posted a 140-53 record from 1992-97, winning five sectional and three regional titles in six years and leading the Berries to another state finals appearance in 1996.
There is absolutely no doubt that his close friend, Coach Turner, was waiting at home plate near Heaven's gate when Butch arrived. As two baseball legends have been lost in one week, there has been an outpouring of condolences and stories showing the many lives their impact has touched.
When their children were young, Butch managed the Municipal Pool at Tower Park with Judy by his side as the pool cashier. From 1978-1997, the couple owned and operated "Jones' Shirt Shack" in downtown Logansport – a fun side business that helped put their kids through college.
Although his schedule did not allow much time for hobbies, he always made time for a good round of golf. He had recorded a few holes-in-one at his favorite course, Logansport's own Dykeman Park.
In 2016, Butch was the recipient of the Interscholastic Athletic Officials Association Award for excellence in the sport of football. A licensed football referee for 57 years, He was a member of the North Central Officials Association, for whom he had served as a clinician, rules interpreter and even president. Butch, also an IHSAA clinician and rules interpreter in basketball, he officiated multiple state finals. During his career as a football referee, Butch officiated 41 sectionals, 32 regionals, 20 semi-states and 11 state finals. He kept in top shape, which he attributed to clean living, and continued to referee through 2020.
Surviving with his beautiful wife, Judy, of 58 years, are his children who were blessed beyond measure to call him "Dad" – two daughters, Lori Jones Fowler (Chris Fowler), Carmel, and Hayley Sauer (Steve Sauer), Fort Wayne, and one son, Matt Jones (Emily Graham), Logansport. Butch wore the title of Papa proudly and enjoyed spending time with his grandchildren which include, Maddie LaDow, Grant LaDow, Alex Fowler, and Nick Fowler. His brother, Bob and sister-in-law Peg, along with their children Deb, Jeff, and Scott as well as several brothers-in-law, sisters-in-law, nieces and nephews and bonus grandkids were all dear to him.
Butch is also survived by many good friends and professional colleagues, former students and those connected by the camaraderie of the baseball and officiating world. The Jones family would like to thank those who came to visit Butch as well as the medical community who lovingly helped care for him, allowing him to be comfortable at home.
A Memorial Service celebrating the life of Larry "Butch" Jones will be held at 6 p.m. Thursday, September 30 in Fisher Funeral Chapel. Pastor Mike Montgomery, who spent many years broadcasting Berries' baseball games on the local radio station WSAL,, will officiate and "commentate" at the Celebration of Life.
Friends will be received prior to the service from 2 p.m. to 6p.m. in the funeral chapel.
A private family burial at Mount Hope Cemetery will follow the Celebration of Life.
You may share memories, photos and offer condolences on Butch's Tribute Wall at www.fisherfuneralchapel.com
In lieu of flowers, memorial contributions may be made in Butch's memory to the LHS Baseball Program, in care of Logansport High School, 1 Berry Lane, Logansport, IN 46947 or to the Cass County Humane Society, 700 Water Street, to reflect Butch's love of animals, especially the many cats that were a part of their family over the years.